Overview
Shortening techniques can be used after skeletal maturity to achieve leg length equality. Shortening can be done in the proximal femur using a blade plate or hip screw, in the mid-diaphysis of the femur using a closed intramedullary (IM) technique, or in the tibia. Shortening is an accurate technique and involves a much shorter convalescence than lengthening techniques. Quadriceps weakness may occur with femoral shortenings, especially if a mid-diaphyseal shortening of greater than 10% is done. If the femoral shortening is done proximally, no significant weakness should result. Tibial shortening can be done, but there may be a residual bulkiness to the leg, and risks of nonunion and compartment syndrome are higher. If a tibial shortening is done, shortening over an IM nail and prophylactic compartment release are recommended. We limit the use of shortenings to 4 to 5 cm leg length inequality in patients who are skeletally mature.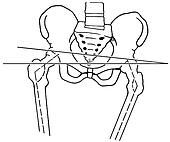 Causes
Leg discrepancy can develop from a medical issue in any portion of the femur or tibia. One leg may lengthen, but leg shortening is much more common. Factors that can cause leg length discrepancy include inherited growth deficiencies. Infections. A bone infection can cause delayed growth in the affected limb. Injury. If your child breaks a leg, it may be shorter once it heals. This is most likely to happen if the fracture or break was complicated, an open fracture, or an injury that affected the growth plate near the end of the bone. Alternatively, a break can cause bones to grow faster after healing, making a leg longer. Tumors. Legg-Calve-Perthes disease. This is a condition that affects the ball (femoral head) of the hip joint. The femoral head may be friable and damage easily, sometimes leading to shortening of the thigh bone. Hemihypertrophy. In children with this condition, one side of the body grows more quickly than the other. Vascular malformations. These are abnormal clusters of veins and arteries that can form close to the bone and stimulate growth. Juvenile arthritis. Inflammation from arthritis can stimulate growth in the affected leg and cause discrepancy.
Symptoms
The effects of limb length discrepancy vary from patient to patient, depending on the cause and size of the difference. Differences of 3 1/2 percent to 4 percent of the total length of the leg (about 4 cm or 1 2/3 inches in an average adult) may cause noticeable abnormalities when walking. These differences may require the patient to exert more effort to walk. There is controversy about the effect of limb length discrepancy on back pain. Some studies show that people with a limb length discrepancy have a greater incidence of low back pain and an increased susceptibility to injuries. Other studies do not support this finding.
Diagnosis
A systematic and well organized approach should be used in the diagnosis of LLD to ensure all relevant factors are considered and no clues are overlooked which could explain the difference. To determine the asymmetry a patient should be evaluated whilst standing and walking. During the process special care should be used to note the extent of pelvic shift from side to side and deviation along the plane of the front or leading leg as well as the traverse deviation of the back leg and abnormal curvature of the spine. Dynamic gait analysis should be conducted during waling where observation of movement on the sagittal, frontal and transverse planes should be noted. Also observe head, neck and shoulder movements for any tilting.
Non Surgical Treatment
In an adult, we find that we can add a non compressive silicone heel lift to a shoe in increments of 3-4 mm maximum per week. Were we to give a patient with a 20 mm short leg, 20 mm of lift all at once, their entire body would rebel. The various compensations that the body has made, such as curvatures and shortening of muscles on the convex side of the curve, would make such a dramatic change not just noticeable, but painful. When we get close to balancing a patient by lifting a leg with heel inserts, then we perform another gait analysis and follow up xray. At that point, we can typically write them a final prescription to have their shoe modified. A heel lift is typically fine up to 7 mm. When it gets higher than that, the entire shoe must be modified. There are two reasons for this. The back of the shoe is generally too short to accommodate more than 7-8 mm inserted inside the shoes and a heel lift greater than 7 mm will lead to Achilles tendon shortening, which then creates it?s own panoply of problems.
how to grow taller at 14
Surgical Treatment
Many people undergo surgery for various reasons - arthritis, knee replacement, hip replacement, even back surgery. However, the underlying cause of leg length inequality still remains. So after expensive and painful surgery, follow by time-consuming and painful rehab, the true culprit still remains. Resuming normal activities only continues to place undue stress on the already overloaded side. Sadly so, years down the road more surgeries are recommended for other joints that now endure the excessive forces.